I'm a big fan of cooking game and as you can imagine venison reigns number 1 for me.
Last night I tried a recipe for making "venison kofta" kindly supplied by "Beardyman's Outdoor Cooking" – find him on Instagram here
It was delicious!
I like venison dishes that are out the norm, yes, we all love a venison steak, venison medallions and such, but venison is much more than its high end cuts. I really enjoy seeing this amazing product being used in as many dishes as you can think of.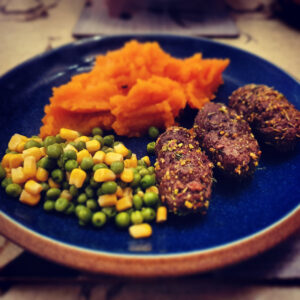 It seems to be an ongoing issue getting the general public to invest in venison over say beef. Much of this is down to availability, most family's shop at supermarkets and as most of us in the trade know its availability in these stores is sparse.
Cost seems to be another issue, but as I've said, most of what you manage to find out there is high end cuts that your average mom will only ever buy for a special meal when the grand parents have the kids…
In the current COVID situation venison prices have dropped significantly making the annual income from carcasses on upland estates a huge concern. We are fortunate here at Fearann Eilean Iarmain to be able to process all our carcasses in house, and owning two hotels enables us to have a steady flow of venison on the bar and restaurant menus, this is a great way to maximise your product. We also supply to some top restaurants in Glasgow, but, none of this addresses the issue of getting this great product to the general publics own table.
For a while now we have been making various venison cuts and products available through one of our outlets on the estate. Remember what I said about cuts ? Its not all about high end cuts, its about high end quality. If its to expensive,, mom ain't going to budget into her weekly shop!
So, with this in mind "Beardyman's outdoor Cooking" is going to put a venison recipe on the Scott MacKenzie Skye Gamekeeper website for people to try, and we want to hear your feed back and see your pictures. We want to grow this idea and look at perhaps creating a list of outlets that covers great Britain that supply Venison and game.
I have met some fantastic cooks and some talented chefs over the years, some have gone on to big things. I will be contacting these people and asking them to create some recipes
for us.
In the meantime check out the Venison Recipes Blog for recipes and updates.
And check out Beardyman's outdoor cooking website – www.beardymansoutdoorcooking.co.uk
Get cooking ! 😁..